BREAK FREE FROM THE AFFAIR
TWO WAYS TO LOOK AT AFFAIR RELATIONS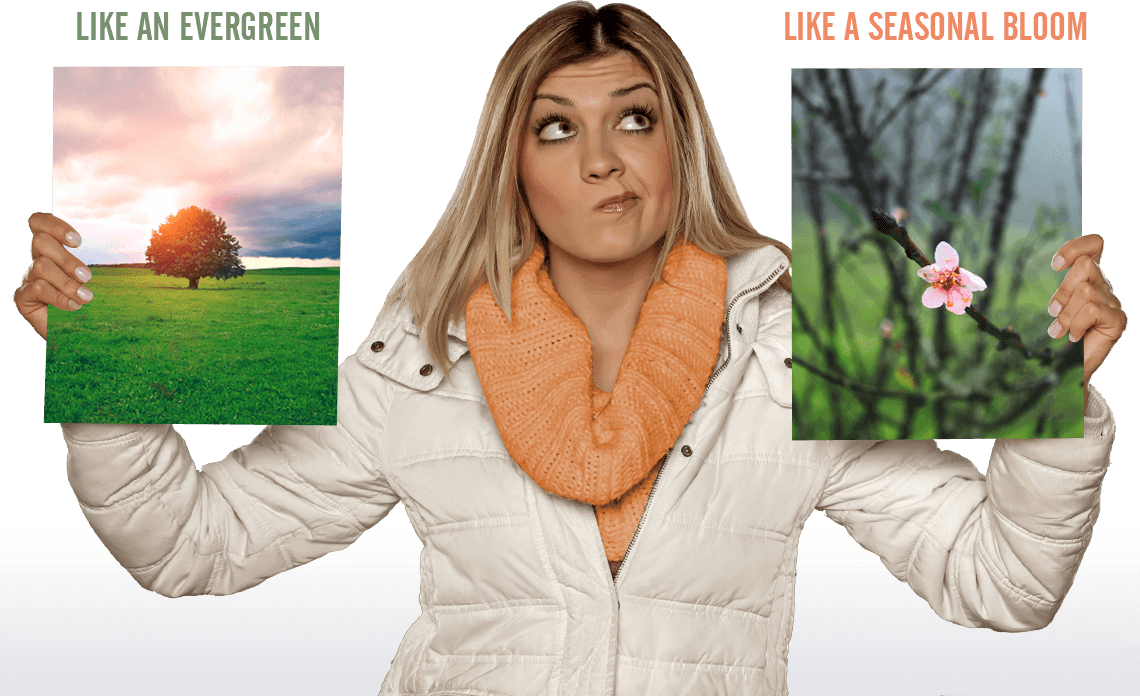 HOW WILL YOU LOOK AT IT?
If you choose to treat your affair like an evergreen, then I wish you all the best. You're going to need it. However, this website and all the resources it provides is concerned with helping those who are willing and courageous enough to treat an affair like what it really is — a seasonal bloom that has come to pass.
THE BAD NEWS
Here's the bad news, extramarital affairs often provide similar payoffs to those found in evergreen or authentic relationships. For example, they can provide things like companionship, connection, interest, excitement, and of course, sex.
The most seductive part?
They often give the illusion of being able to provide many of the rewards that you would get in an authentic relationship but without having to do any of the hard work required in authentic relationships. So, it's kind of like getting to eat all the ice cream you want and never having to worry about cholesterol or weight gain.
THE WORSE NEWS
Once a person believes that they are in fact getting something pleasurable (without having to pay too much for it), it's easy to become enchanted. And so it's more likely for them to mistake intensity for authenticity, excitement for passion, attachment for love, and pleasure for happiness, and of course, mistake a seasonal for an evergreen. Unfortunately, many can become so enchanted by the idea of pleasure without a price that they can't see the illusion until it's too late.
THE CHALLENGE
The laws of the universe are exacting. There is no such thing as something for nothing. There's no action without consequence, and there's no wrong action that can lead to a right result. And so there's no deceptive relationship that can also be an authentic one.
THE PROBLEM
Affairs produce what is commonly called an affair fog. Now, this describes a state where it becomes difficult for a person to tell the difference between what is genuine and what is an imitation, what is meaningful and what is meaningless, and what is worthy of pursuing and what is reckless to pursue. And it's this affair fog that often leads to so many poor decisions and bad choices, deceptive practices and regret makers that happen during the course of an affair.
THE EVEN BIGGER PROBLEM
Affairs also produce high degrees of misguided loyalty. Now you can tell this is happening when the affair partner is stubbornly willing to believe the affair lies and strongly defends the affair itself despite the fact that having an affair totally goes against their own principles and values. And it's exactly because of this type of misguided loyalty why so many will fight to keep the affair rather than fight to break free from it, and why so many will obsess about what they've lost at the end of the affair rather than focus on the rewards of living guilt-free from the affair. But perhaps most dangerous: Misguided loyalty is also the primary reason why so many treat an affair like an evergreen when they ought to be treating it like a seasonal and allowing it to fade away. And it is the reason for the drama and the trauma at the end of the affair.
THE GOOD NEWS
There is a way for you to break free from the affair without all the drama and trauma, but it means taking a different approach than you've taken to the end of the affair, and yet it works.


Are you willing to take a different approach to the end of the affair? (One that doesn't involve all that drama and trauma?) If you are, then my End of the Affair online home study course might be part of the solution you've been searching for.
My End of the Affair home study has 5 video coaching sessions, during which I will coach you, coax you and guide you through my process for breaking free from the affair with as little drama and trauma as possible. Please notice: I offer no judgement on how you got here, (that's not my job). My job is to help you figure out how to move forward from here. Therefore, all the tips, tools, strategies and skills you're going to learn are all designed to help you do one thing: break free from the affair, both emotionally and psychologically, and do it in a way that keeps your self-respect and self-esteem intact.
The Best Part?
You can access my End of the Affair home study course instantly. There's no waiting, no awkward or uncomfortable office visits. You can begin right where you are, taking it one step at a time, listening and learning from the privacy and convenience of your own home.